With the OCR technology, customers of Credit Agricole can now pay invoices and bills more easily than ever before.
In the first quarter of 2020 there was an increase of 1.5 million customers using their bank's mobile application in Poland, which means that nearly 14 million people already use mobile banking here. Despite the growing popularity of this channel, there are still operations that customers prefer to perform on the PC. One of them is paying bills and invoices. This seemingly simple activity carried out on a relatively small smartphone screen can be still very troublesome and time consuming for mobile banking users.
So, how to automate invoice payments in mobile banking? How to convince customers to pay their invoices using a phone and not a laptop? How to make them see it as something pleasant and not particularly time consuming? Credit Agricole overcame this challenge, by having FINANTEQ's OCR for Invoice Payment implemented into the CA24 Mobile application.
How did the process look before the implementation of OCR for Invoice Payments?
Prior to the implementation of OCR in the application, paying invoices with a mobile device was more difficult and less convenient for Credit Agricole customers. Upon receiving an invoice, the customer had two options to pay.
The first of them was to download the invoice from the e-mail attachment and enter or copy the data from the invoice into the transfer form in the application. The second option was to retype the data manually from the paper invoice. With the OCR technology, both of these things can be done far more efficiently.
Anyone who at least once in their life has gone through this process knows that doing it on a smartphone requires great precision and constant switching between applications. Going through all of this every time you need to transfer money is simply inconvenient.
With OCR for Invoice Payments, banks' customers will be able to fill in transfer forms faster and trouble-free.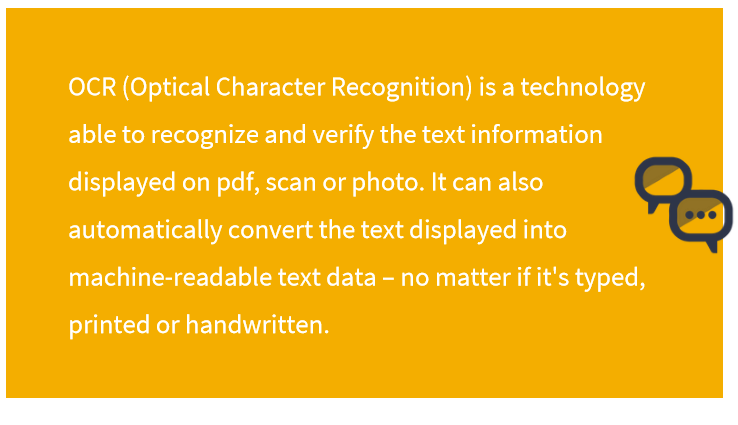 OCR technology – a way to improve customer experience
OCR for Invoice Payments is a tool which will not only facilitate paying invoices, but will also enhance the customer experience of using mobile banking. If you would like to know more about its features, click HERE.
How to fill in a transfer form after the implementation of OCR for Invoice Payments in Credit Agricole? To order a transfer, a customer using CA24 Mobile simply scans the beneficiary's data from a paper invoice. The form will then be automatically filled in and the customer will be able to edit all the fields or simply accept the form.
More comfort, reduced risk of error
The invoice scanning component does not only read the data from the invoice and sends it to the payment form in the mobile application, but also validates its accuracy e.g. by verifying the account number on the invoice or other standard numbers. This is why the risk of making an error or typo while filling in the form is virtually eliminated. Not to mention the time saved on paying the invoices of course.
The OCR technology is also of major assistance to business customers. Entrepreneurs will be able to use this functionality to make "split VAT payments". For this type of transfer, they will be able to scan such data as: Account number, Beneficiary name, Tax ID, Invoice number, Transfer name, Gross amount and VAT amount.
The implementation of OCR in Credit Agricole illustrates how strongly oriented on the future and security the bank is, both of which are so highly valued by individual and corporate customers.
______
If you would like some more information on how to pay invoices more easily – both those electronic and paper ones – using mobile banking, download our e-book on OCR.