A few days ago, Revolut, the British fintech, announced the launch of a new feature in its mobile application: Revolut Stays. 
The VAS revolution at Revolut
In addition to making payments, planning expenses, buying currencies and cryptocurrencies, or investing in gold and insurance, now you can discover and then book accommodation all over the world in minutes. The Revolut mobile app turns into a real combine.
Moreover, that ultimately fintech intends to enable booking flights or car rental. Thanks to this, the application used primarily for financial purposes becomes the so-called great application – a tool that provides access to various services.
It is not only Revolut that is looking for new development paths for itself. Lately, it became known that Klarna was taking over Inspirock – an American company that creates travel planning solutions. Customers of Swedish fintech will be able to book a flight, a hotel, or arrange attractions during the trip. When it comes to paying, the option to buy now, pay later will appear as well.
But let's go back to the past for a moment. Does Revolut create new market value using Value Added Services inside its financial app? There are some attractive solutions in banking, for example in Poland. Let me tell you about it.
One day in FINANTEQ, we asked ourselves a question: What will m-commerce, m-banking, and m-payment might look like in the future? We noticed that mobile banking is actually a form of m-commerce service. This is why we decided to combine banking with the rest of the m-commerce world and it turned out that these worlds complement each other perfectly.
This is the idea of "superwallets". Services, payment, and shipping are processed with one click directly from the banking app. For its superwallet, FINANTEQ received many awards in international financial world competitions, e.g. "Best of Show" award at Finovate in New York City. 
The first implementation of a product, linking product suppliers with a financial institution took place in 2013. At that time, an authorial project of FINANTEQ became part of Santander Bank app – the third biggest bank on the Polish market at this time. Today almost all mobile banking apps in Poland are in fact superwallets. You can remotely order and pay for various services and goods e.g. taxi, parking fees, bus tickets, city bikes, grocery, hotels, trains, cinema and events, takeaway food, and many more. All these remote payment services are embedded inside a single mobile banking app.
Let's have a look at some FINANTEQ m-commerce stats.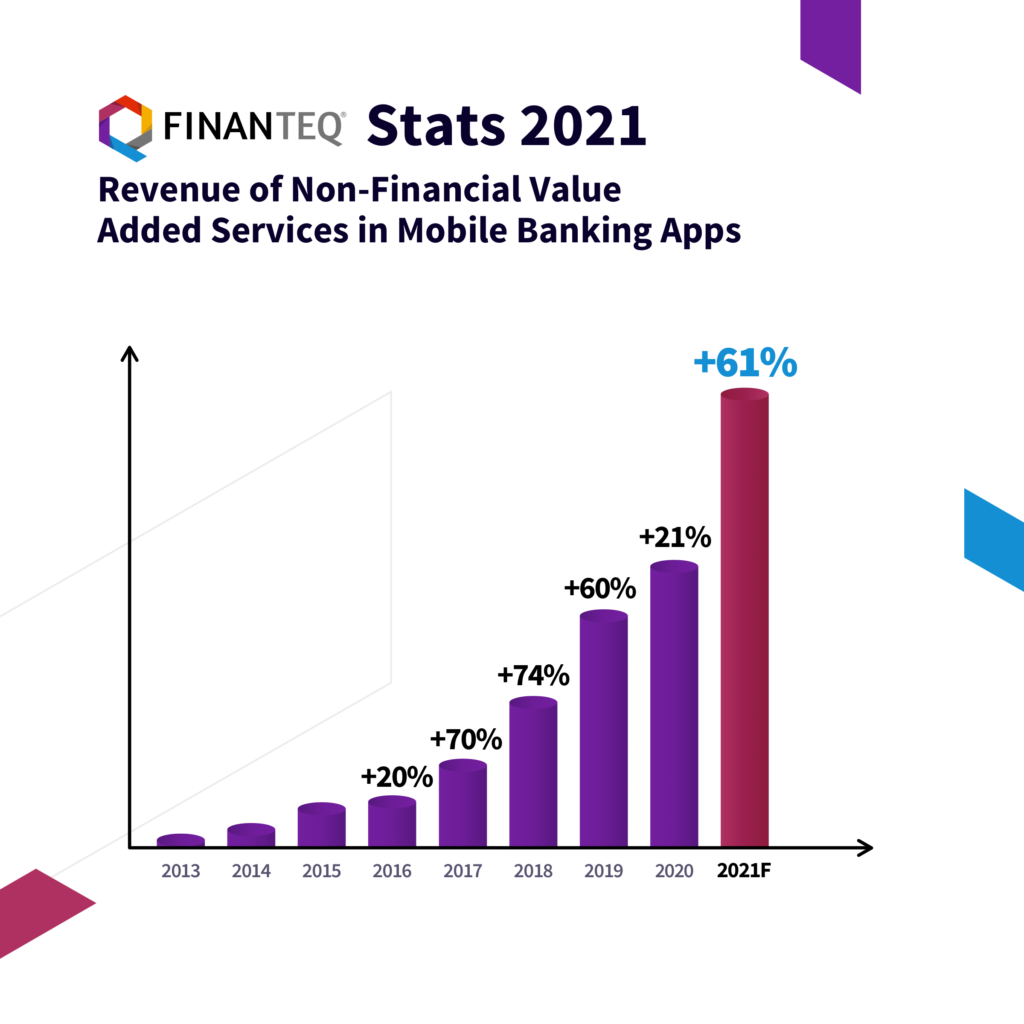 The revenue growth of non-financial Value Added Services implemented in banking apps provided by Finanteq has exceeded on average 14,6% (CAGR) for the last five years. Moreover, the forecast for 2021 shows 61% growth year over year.
That is why banks and fintechs implement non-financial services to their apps and create m-commerce platforms (superwallets).
Banking and m-commerce: win-win
Superwallets help banks take full advantage of their potential by integrating m-commerce and other non‑financial remote services with mobile banking. All the necessary data is already in the system. One application. One interface. The payment is made directly from the bank account or the connected card. 
For companies with millions of customers, the m-commerce market seems to be the most attractive growth direction today. Partners who make their services available in our m-commerce ecosystem are also happy, as this opens up a new sales channel reaching millions of consumers. 
In FINANTEQ, we provide banks with a comprehensive m-commerce platform as well as other components. They can be simply integrated with any mobile banking application. For banking, this is also an opportunity for additional income from transactions.
Therefore, the "wallet" channel will soon be the most commonly used channel for mobile sales.
For banks, this is a great potential. First of all – for the revenue diversification. Secondly, if we look at the ever-decreasing interchange fees, also for the cross-selling.
Furthermore, one of the most important benefits for banks is not only new streams of revenue. It is also valuable knowledge about how exactly the customers spend their money on the SKU level, which is also an excellent stream of information related to Big Data system.