Poland is a great place for the global finance industry to conduct model developments, especially when it comes to banking. Why is so? What were the beginnings and what are some of the key opportunities and challenges facing Polish banks today?
We talk to Andrzej Sierpiński, managing director at FINANTEQ, to find out.
Poland is gaining a reputation as one of Europe's digital banking hotspots. What is it about Poland that is so conducive to digital banking?
To fully illustrate the topic, let me go back to the beginning. The beginnings are also related to us.
In 2000, when e-banking was in its infancy in Poland, there were about 70 commercial banks. Competing with each other, banks were looking for innovative solutions thanks to which they could attract new customers or take them over from the competitors.
At the time, one of the banks very strongly oriented towards modern technologies was Raiffeisen Bank Polska – the bank wanted to be a leader in this area. In 2004, Raiffeisen offered its customers the first mobile application – R-Mobile (Java 2 MicroEdition).
At that time also, Nokia offered a suite of new devices with the Symbian operating system, which were the first smartphones and gave customers much greater capabilities. They were capable of much more than the first generation of mobile phones. Nokia promoted them heavily. The devices gained market interest and were selling more and more.
It was a great opportunity for financial institutions to use modern mobile devices to offer their services.
Simultaneously it was also a fantastic chance for companies like ours. At the time, we were already a company focused on new mobile technologies. We were offering our FFM system, which was winning the market. With excellent technical competence, we were looking for new places to grow.
Given the intensive development of banking and mobile devices, mobile banking seemed to be such an area.
And here we come back to the beginning of my story: Raiffeisen Bank. In 2007, we offered some solution, presented it to Raiffeisen's CEO, who said: "I want it!". We signed a contract and, a year later, FINANTEQ implemented its first native smartphone application (SYMBIAN). In the following months, applications for devices with other operating systems appeared: iOS, Windows Mobile, Android and BlackBerry.
I can say that this was the beginning. Raiffeisen Bank was a pioneer. It created trends that were, however, looked at with some disbelief.
Until then, banking services in smartphone browsers seemed to be the standard. The industry was cautious about apps and did not believe that they would be the future.
That, of course, began to change: customer habits, needs, and expectations were changing. The market was changing – smartphones were gaining popularity, new mobile applications were created.
The years 2010-2011 turned out to be a breakthrough when two more large Polish banks approached us for applications (BZ WBK SA and Pekao SA).
It was the moment when financial institutions began to believe that native applications installed on mobile devices are the future of digital channels and that they can be used to reach customers where they happen to be. More projects followed in the years to come.
Concerning your question: all this, the combination of circumstances I mentioned, i.e. a large number of banking institutions, strong competition among themselves, Raiffeisen Bank's aspiration to be a technological pioneer, the search for new areas of development by technological companies (such as ours) and, finally, the boom in smartphones, meant that there were and are excellent conditions for the development of digital banking in Poland.
A certain trend emerged: competitiveness triggered in more and more banks the willingness to invest in new technologies, demand for such solutions grew. The result was that Poland, to put it briefly, bounced back from the rest of the world and quickly gained a reputation as one of Europe's hotspots for mobile banking. Banks in Poland took the very first step towards mobile banking earlier than other banks (e.g. USA).
What's more, to my knowledge, the iOS banking app we developed for Raiffeisen Bank in 2009 was the world's first mobile account access app for the iOS platform. I found no other information that anyone had done this before at any institution in the world.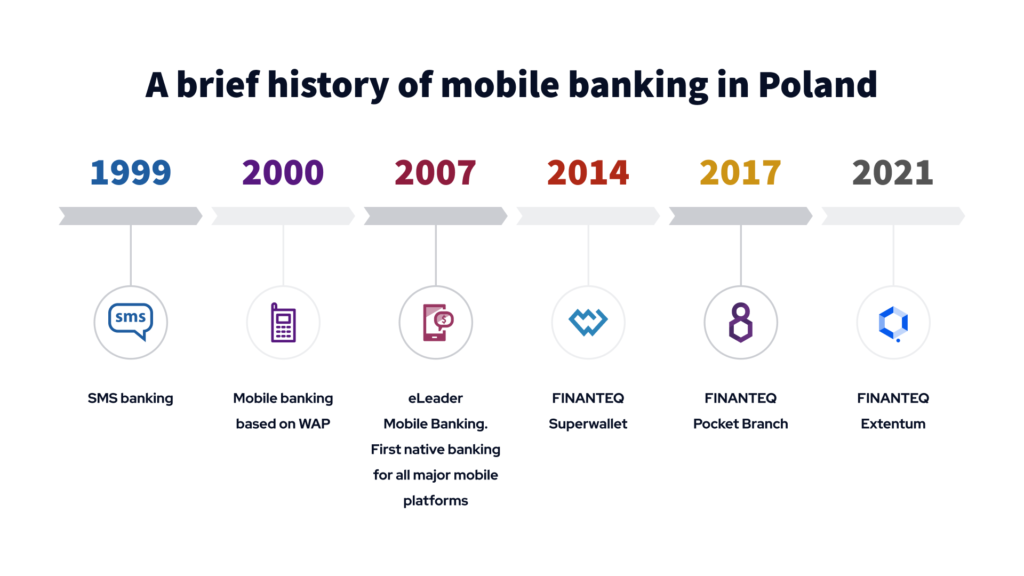 It is said that Poland is a great testing ground for the global finance industry to conduct model developments. Why is that?
Let me be more precise.
Above all, Poland, being more technologically advanced than other markets, to find additional value for customers, is more courageous in entering new initiatives.
An example might be our e-commerce solution: Superwallet, which has been implemented in two banks so far.
It was Superwallet from FINANTEQ, which won the Finovate award in New York and created a trend of banking value-added services in apps.
Today most of the major banks in Poland provide services of selling traffic tickets and parking services using mobile apps, which does not exist in the world on such a scale. There are, of course, various initiatives, but not on such a level that a few institutions in one country have an aggregation with merchants which offer such services.
Another example: BLIK. It is not our solution, but it is a Polish one: a payment initiative – the first in the world, based on a certain scheme. We hear that other initiatives similar to it have already appeared.
We can talk about a particular level of advancement in the market. The market is changing all the time, digitalization is progressing. Banks (still competing with each other) are experimenting, looking for new digital solutions i.e. video banking. They are wondering how to reach out to new customers, how to make their offer more attractive to stay one step ahead of the competition and survive in an increasingly competitive environment.
I definitely agree that Poland is a great place to develop new models for the global financial market. However, I would not literally describe it as "testing ground." I would rather call it a thoughtful search for added value.
Can you tell me about the ways Finanteq works with Polish banks to help them develop their mobile banking proposition?
We have been working with most of our customers continuously for many years. It means we are engaged in constant application development. The banks have their backlogs, and we are the right partner that helps them deliver them.
I want to emphasize, that long-term cooperation guarantees understanding each other's needs and providing the best possible solutions.
Our know-how, the way we realize projects, and the highest technical excellence result in an above-average quality of the applications we develop. The evidence of this is high ratings of our apps in stores.
At FINANTEQ, we cooperate with our clients in agile methodology, which gives them complete control and flexibility over the projects that we jointly run.
Banks appreciate our way of cooperation. They always receive what they expect.
Also worth mentioning, we have an R&D division, where we develop our products, such as Pocket Branch, the remote channel for banks that allows to bank through a video, audio, or a text chat, or our OCR solutions to recognize and verify the text information displayed on PDF, scan, or photo.
Banks see the need to implement our innovative solutions in their roadmaps. And we know we're moving in the right direction.
Are there any key relationships or innovations you'd like to highlight?
We know that we produce software for an extremely sensitive sector, where, through technology, banks' customers manage their finances. And finances, as we know, are one of the most important things in people's life. Thus, security must be maintained at the highest level.
At FINANTEQ, we meet the highest standard of mobile banking protection. In my opinion, it is the greatest value we offer to our clients: when it comes to banking, security is a core issue.
To stay ahead of the field, we have decided to establish cooperation with Promon, a leader in the Runtime Application Self-Protection (RASP), the so-called app shielding. What is more, in December 2021 we have become a technology partner of Polish Security Printing Works for eDO App services. Thanks to this cooperation, we will be able to offer our clients a number of modern, convenient and secure features of the electronic identity card (e-ID). It is another point on our map of cutting-edge digital technology.
Today the development of applications where it is difficult to find developers is a challenging task. Gartner and many other large analytics companies say that it will change towards no/low-code solutions. And we also perceive it.
Speaking about innovations, with our R&D division, now we are working on a no-code solution that will simplify, accelerate and reduce the costs of software development for banking. It's called Extentum. Currently, it is in the MVP phase. The market will learn more about it in the future.
What are some of the key opportunities and challenges facing Polish banks today? How does Finanteq help banks take advantage of the opportunities, and address the challenges?
The main challenge facing Polish banks today is the need to quickly deliver solutions with high business value in a reasonably short time. In an appropriately reasonable budget.
One way to achieve this is to create software teams that work for the bank in a stable composition over a long period. Team knowing the bank's needs. It is deployed. It is integrated. It is performing well.
Another approach is to use no-code solutions that solve some software development problems.
Currently, we observe the trend of increased usage of smartphones caused by the pandemic. People worldwide are reaching for the phone as a replacement for visiting a brick and mortar branch. Smartphone has become the main medium where the customer should do everything. Literally everything. All the operations they could do through other channels.
What we will offer the customer in that access channel are those opportunities.
How does FINANTEQ help banks? As mobile banking providers, we are experts. We follow the trends. We advise our clients on the solutions worth implementing. We guide them. We deliver know-how and technical excellence.
Besides that, we create dedicated solutions, as I mentioned earlier. All this to keep our customers one step ahead of the competition.
What are some of your main strategic priorities over the months ahead?
Our main priority is to promote globally our off-the-shelf solutions, which give very high business value in a short time and at a reasonable cost (such as Pocket Branch or Smartwatch Starter Kit). We want to propose solutions that can be implemented with minimal effort, without a need to hire a big team. Today, you can develop anything, but the key to achieving success is time to market, quality, budget. If these factors go hand in hand, it gives great business value. That's why we create a no-code platform – Extentum.
Any further points?
Maybe kind of tip for other companies:
Paradoxically, in the course of our activity, many companies that competed with us in the field of mobile banking have collapsed. They offered similar solutions. Today, only a few players left.
The companies there did not survive for various reasons. The biggest ones survived, but there aren't many such companies.
Today, a large part of bank development is done by outsourcing companies. In this case, banks must take care of proper onboarding of developers, explain their business, show them the limitations. In this scenario, developers do not become part of the organization.
Whereas we, as I say, have survived by being specialized in one area. Only mobile, only banks – one focus and being the best at it. In today's world, specialization is the key.