Over 760 mln transactions in only a year. BLIK – the Polish mobile payment standard – transforms the face of Polish mobile banking.
When it comes to banking and payments, Polish people love innovations! They are also keen on mobile banking. So far, over 16 million people have decided to use it. Here, at FINANTEQ, we are in the centre of these changes, as we introduce new mobile banking services, develop components and create up-to-date, customer-friendly design for mobile apps.
The Polish market features several solutions worth noticing, such as pay-by-link payments (quick, automatic online transfers) or online money exchange platforms. However, BLIK – the Polish mobile payment standard – has unquestionably been the most successful of them all.
What is BLIK?
To answer this question let's go back a few years. The first solutions involving cashless wallets, which enable users to make payments using smartphones, were originally introduced by Google and Apple. However, Polish banks did not want to wait for the two tech giants to enter the domestic market with Google Pay and Apple Pay. Several of them – Alior Bank, Bank Millennium, Santander Bank Polska (then known as BZ WBK), ING Bank Śląski, mBank and PKO Bank Polski – launched a joint project in 2013.
They decided to promote and support the development of a new mobile payment standard. This is how BLIK was born.  From the user's perspective, it is a simple and convenient mobile payment option which uses six-digit codes displayed in the user's banking app. On the technical level, it is a very interesting solution, one that is easy to adapt to every banking system and offers an opportunity to challenge the dominance of Visa and MasterCard in the cashless payments sector.
When a smartphone user pays with BLIK, their banking application generates a special passcode. The code is then used at a BLIK-compatible ATM or online store, before confirming the transaction in the mobile app.
This allows users to: 
●       shop online using the 6-digit passcodes generated by their application
●       withdraw cash from an ATM without using a bank card (using only the code)
●       transfer funds using only the recipient's phone number
●       activate a BLIK cheque (such cheques can be used to quickly send money to other people, without the need for them to have a personal account or Internet access)
●       remember the shops (BLIK One Click) where the user has already purchased something, enabling one-click shopping without having to enter BLIK passcodes
 Just a few steps, and it's done!
Our implementations
At FINANTEQ we had the opportunity to implement BLIK into mobile applications of several major Polish banks:
Santander Bank –  one of the first banks in Poland to implement BLIK. Currently, the bank has the broadest range of functionalities available in BLIK, including BLIK One Click. This feature "remembers" the store you shop in, so (the next time you pay) you can skip the 6-digit code entry step.  
Credit Agricole – BLIK in CA, initially introduced for new account holders, is now available to every bank customer. It enables, among other things, cash withdrawals from ATMs without the card and allows for quick and safe payment in online and physical retail stores. Both are available through the CA24 mobile application installed on smartphones.
BNP Paribas – thanks to the solution we implemented in 2017, the bank's customers can now pay for shopping in traditional and online stores as well as withdraw money from ATMs.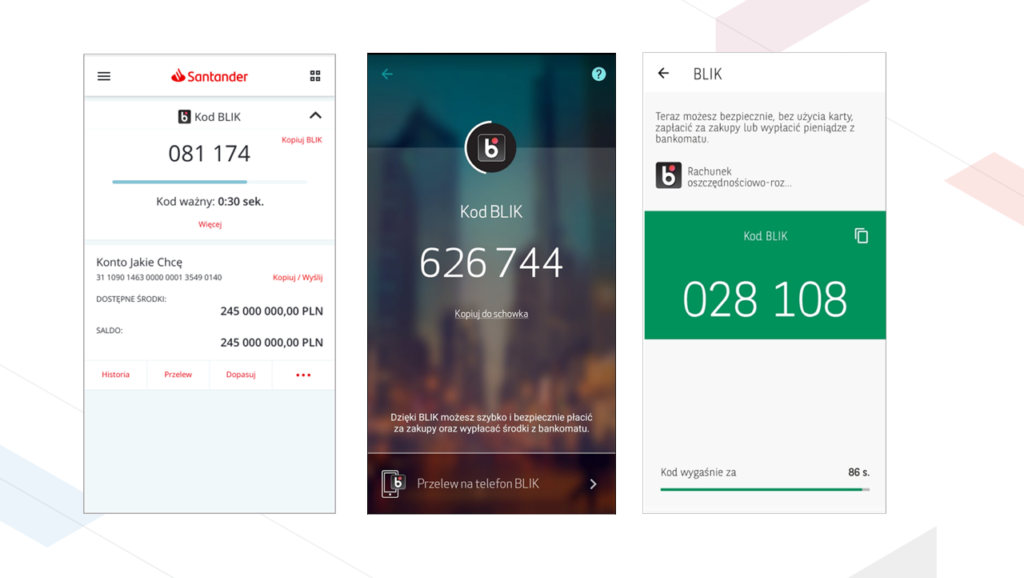 What is the key to the success of this solution?
BLIK's popularity lies in its… simplicity. When creating BLIK, no new application was developed. Instead, Blik was implemented in already working mobile banking applications. That way, a huge database of customers who came into contact with BLIK was immediately obtained. Today, there are nearly 10 million users of mobile banking apps in Poland. Achieving such a base by means of a new, separate application for BLIK would have taken years. BLIK itself is also a huge added value of the banking applications in which it has been implemented, enhancing their functionality in a straightforward way.
BLIK is also gaining importance as a substitute for the card in the area of cash transactions and transfers between users. 
In 2019 Mastercard appreciated the simplicity of this solution signing a cooperation agreement with BLIK. This will make BLIK contactless payments possible worldwide, in all POS terminals accepting Mastercard contactless payments. In the same year BLIK also gained its first global partner in e-commerce – the British company PPRO. Thanks to this, the users will be able to pay with BLIK on many global e-commerce platforms.
BLIK, though not under its own name, will also be implemented in the United Arab Emirates. 
IS BLIK secure?
All this sounds really simple, so no wonder that questions about BLIK's security are among those most frequently asked in connection with this payment method.
Both the BLIK payment service and the application itself have a number of necessary security features:
a person downloading a banking application that features BLIK must be properly verified by the bank, so that the bank can assign the downloaded application to that person's bank account (a call from the Call Center, verification in e-banking or a code sent via a text).
application access mechanism – such as a PIN, fingerprint scan or password. Without them it will not be possible to get into the banking application.
a one-time code generated by the BLIK system is displayed in the mobile banking application on the customer's phone. The code must be entered in the terminal in the shop, on an ATM keypad or on the computer screen. It cannot be used to make a transaction without authorization on the smartphone. The customer can choose the method of approval – the "OK" key or an additional PIN entered at the time of authorization.
In 2019 BLIK broke its record and registered over 146 million transactions! This is more than the results for the first four years of its history.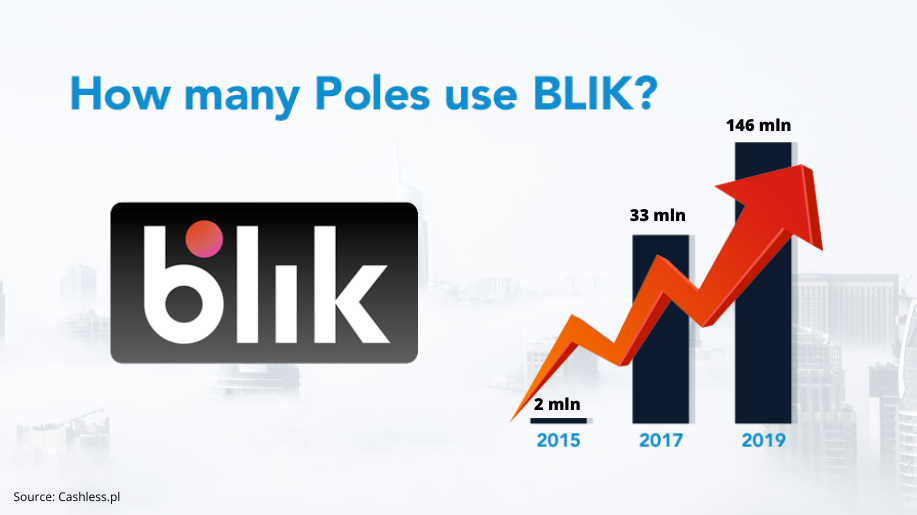 Mobile payments such as BLIK are the response of the financial sector to the expectations of the customer, who is increasingly turning "mobile ". BLIK has every chance to become an international payment standard with customers all over the world. We keep our fingers crossed for this to happen!