Today, customers prefer to handle all their affairs electronically.
Digital channels such as online and mobile banking, are becoming the basic method of customer access to a bank account. People want banking from every place, any time.
What will the future look like?
Digitalization and pandemic mix
"The world has changed…"
And no, it is not just a quote from the Lord of the Rings movie.
There is no denying that the mix of advancing digitization and pandemic of COVID-19 has proven to be the ignition for many changes that seemed impossible to implement just a few years ago, for various reasons. The pandemic as such did not change the technological development direction, but rather accelerated and strengthened it.
Banks like many other institutions had to face many problems. One of the challenges was the fact, that people stopped coming to the branches and moving to the Internet. However, it was only during the pandemic that this phenomenon dramatically increased. To attract and retain customers, banks had to increase the number of digital services. They had to speed up the IT changes they were planning or already implementing. It was necessary to stay on the market.
A bank with a human face?
Among many trends and solutions that have gained momentum over the past few years and have only accelerated during the pandemic, it's worth pointing to the rise of virtual bank branches, which allow customers to contact the bank via digital channels (audio, video, or text chat).
Today, of course, banks have a range of online banking services. Customers can check their balances, transfer money, make a deposit or even take a loan – all remotely.
However, some dispositions still require human interaction. There is also a large number of customers, who prefer face-to-face contact. When they make important financial decisions, they want to speak to someone. A bank "with a human face" is still in demand.
That is why the virtual branch, such as Pocket Branch by FINANTEQ, delivers the best. It merges the speed and convenience of digital solutions with the personal, human factor of the traditional stationary branch.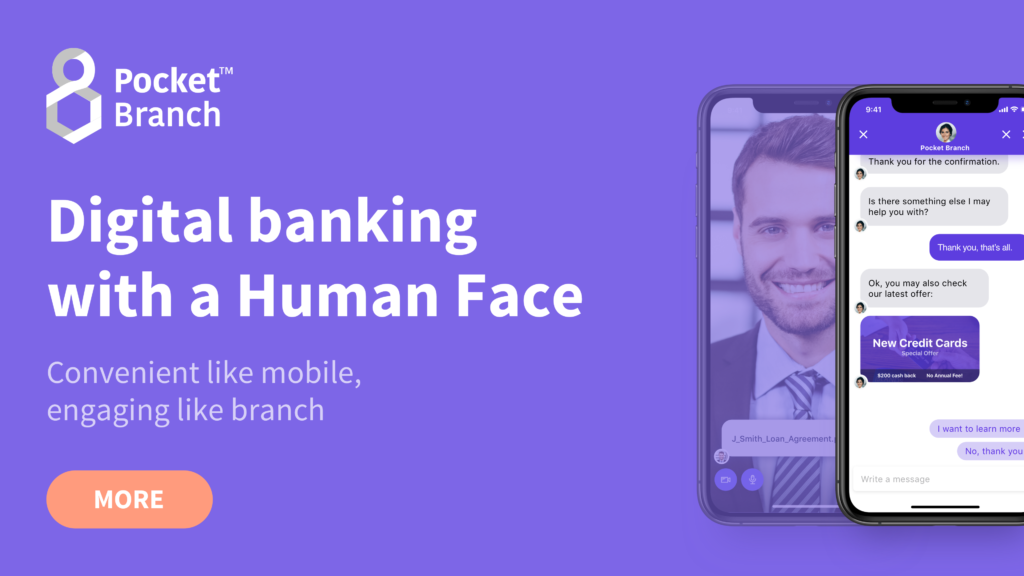 Why do both customers and banks benefit?
Benefits for customers
Younger generations love digital technology. Reports show that 70% of Millennials are already using mobile banking. They don't want to bank how their grandfathers did.
Others follow suit.
This is confirmed by the Boston Consulting Group report. Customers are moving to digital channels faster than they have in the past. Online banking use has risen by 23%, and mobile banking use is up by 30%. Traditional banks are going out of business.
It is time for the virtual branch, which:
Meets all customers' banking expectations: convenient, fast, digital solutions.
Builds on online banking by moving the digital world beyond the transactional.
Allows each customer to access higher-value services and to quickly get the help and advice they need from experts face-to-face.
Adds a new layer on top of convenience.
Builds trust.
Delivers a whole new level of the customer experience through its ease.
Responds to customer expectations regarding the preferred communication channel and enables a quick movement from text to voice or video and vice-versa.
Why is a virtual branch a perfect choice for banks?
Some of you may be asking yourself: how is the pocket branch different from Skype?
Despite the customers' movement from branches to the network and closing traditional branches, stationary bank branches have become also expensive and under-used assets.
In the past, banks opened branches to be as close to their customer as possible. Nowadays, all a customer needs is access to a computer or smartphone.
The bank is in the customers' pockets.
Considering the above, the virtual branch is only not about chatting and talking face to face.
It means many tangible benefits for the bank:
Maintenance costs are lower than in the case of stationary branches, and in return, we reach a wider range of customers. It allows you to save a large amount of money!
Secondly, it gives more opportunities than a branch or a regular call center, thanks to the fact that an advisor can present sales materials to a client during a video call, or share files.
It brings the same level of service that customers expect from personal contact with their bank into the digital space.
It allows you to get much closer to the clients and get to know their problems and needs better – it is the most significant advantage of a virtual branch.
Let me explain why.
For the bank, this is an advantage: more frequent contact between the customer and the bank fosters a closer relationship, getting to know customers better.
Today, in the era of the widespread availability of services in digital channels, they have the bank at hand. It is easier and more convenient to initiate contact. Therefore, whenever they need information or assistance, they use remote options, saving their time and money and putting much less effort into dealing with their financial affairs.
Thanks to this, it is possible to prepare and propose more personalized offers to customers – tailored to their individual preferences and capabilities. And this directly translates into increased sales opportunities in remote channels – talking to another person makes it easier to sell. It also helps build trust and provides a sense of security.
Virtual branches, such as FINANTEQ'S Pocket Branch offers also many additional possibilities.
See our video and learn how does it work:
The future of banking
Enterprise digitization is a reality, and further progress is a foregone conclusion. To survive and to develop, the banking industry must be technologically strong and attentive. Investing in technology and people who can use and build it is the key.
In the age of widely available online banking, good customer relations are of paramount importance. Therefore, transferring good experiences from stationary branches to remote services will be the future of modern banking. Modern financial institutions realize that improving service and meeting customer expectations are key measures. It is what the digital branch is all about – mobile banking that is always at hand.
In our next article, you will learn how a virtual branch helps to increase sales.