Only a few years ago, it would have been hard to imagine that mobile application development would be possible without coding. Meanwhile, the market for low-code and no-code platforms is growing dramatically. Is mobile banking app development possible without developers?
Changing digital trends, rising customers' expectations, as well as growing competition in the software industry and the need for businesses to change at an ever-increasing pace, are driving the necessity to discover, implement and use more and more new ideas.
One of such solutions that appeared on the market long ago and has recently been gaining in popularity is low-code and no-code, which allow people with no programming experience to create new functionalities in applications.
An application developed with no-code? Now it is possible.
What exactly are low-code and no-code platforms? Why choose a no-code? What benefits does it bring? Who can use it? How can we use it? How to choose a good low code or no-code solution for your mobile banking application development?
I will answer all these questions in a series of blog posts.
Traditional development challenges
Owning a mobile banking application with specific functions requires, of course, its maintenance and introduction of changes expected by customers. In fact, there are a few major disadvantages of traditional development. Manual coding is more time-consuming than automatically generated code from low-code or no-code tools. Launching even one new functionality sometimes takes a few months and a dozen specialists work on it, having a specific budget at their disposal. Classical development requires more advanced knowledge of a particular programming language or development platform. Not to mention even the decision-making process, which can drag on for weeks or months.
For the sake of looking for savings, many companies even stop new projects.
At the same time, they start to look for cheaper solutions, such as low-code and no-code platforms.
Why invest in low-code and no-code mobile app development?
Mobile applications are now one of the most crucial tools to run a modern business. They are essential to gain a competitive advantage by saving human resources, time and costs.
Today, most banks' customers cannot imagine life without the possibility of quick access to a mobile banking application from a smartphone. Adjusting the application to the user's needs, almost in real-time, translates into the bank's financial results and the customer's comfort during application use.
The mobile app market is constantly evolving. The use of digital channels is becoming the primary way for customers to access their bank account. Consumers need innovative and smart remote solutions. The number of people actively using mobile banking apps is increasing every year. According to the latest data from App Annie, mobile app usage during the COVID-19 pandemic has increased by 40%. We are spending more and more time online, and as confirmed by We Are Social research, 90% of that time is spent on mobile apps. In addition, a Google report shows that about 80% of mobile users are more likely to buy from companies that have mobile apps or user-friendly websites.
The Boston Consulting Group report also confirms that customers are moving to digital channels faster than ever before. During the years of the pandemic, online banking usage increased by 23%, while mobile banking – by 30%. Moreover, mobile banking usage is expected to increase by 19% and branch usage – to decrease by 26% after the pandemic.
The further development of digitalization and mobile channels is inevitable.
It is a big change for the banking industry, which for less digitally advanced banks could mean the threat of losing customers who will move to more digitally advanced competitors. These days, you cannot afford to keep customers waiting months or years for new functionality. Banks' customers demand innovative, modern products and smart remote solutions. Moreover, they expect you to implement the tailored features they need overnight.
The answer is low-code and no-code.
Low-code and no-code market
The number of low-code and no-code platforms users is also increasing.
When reaching for statistics, keep in mind that the data is given for no-code and low-code solutions together.
The mixture of low-code/no-code and conventional innovation is projected to be adopted by 75% of businesses.
According to Statista, the global low-code platform market revenue is forecast to reach approximately 65 billion U.S. dollars in 2027. The market is projected to grow with a CAGR of 26.1 percent over this period.
In 2021, 71 percent of respondents indicate that they believe no-code tool usage over the next year will increase in software (Expected increase in no-code tool usage over the next year worldwide in 2021, by select industry).
Coding without developers?
When talking about coding platforms, it is essential to know, that low-code platforms have been present on the market longer than code-code solutions, so the market is more mature.
Secondly, it is clear that the no-code was created earlier by programmers, so that now everyone can use it easily. There is some coding indeed.
To explain what the difference between these two solutions is, let me change the domain of our lives for a moment. Well, imagine that you need a new jacket.
If I was to depict the process from the thought of a new jacket to the moment of possession, using no-code solutions, your action is limited to choosing a model, colour, material, size, shop and price that we approve. When you decide to buy, you just choose the exact model that suits us from the available range. You can also ask your wife to buy the jacket for you, or you can easily order it for home delivery over the Internet. Quick, simple and pleasant.
However, if you had a dream to have a tailor-made jacket, the process would look a bit different and could be compared to low-code solutions. Yes, some elements would be consistent. For example, you would have to choose the material, the colour and the price of the materials needed. But apart from that, you need to hire a tailor who will design, cut, and sew. Of course, the jacket cannot be sewed by a random person without tailoring skills. You need a tailor. Perhaps, in the end, you will prefer a different colour of the lining, and it is not currently available anywhere? Fitting, alterations, fitting again. That means more time investment and more human work costs or additional, unpredicted costs even.
I am sure you got the point.
Low-code and no-code differences
Back to the world of no-code and low-code platforms: How exactly do these two solutions differ?
The difference mainly depends on coding skills, core design, and user interface.
With no-code it is simple:
Codeless platforms work by providing tools that enable fast software development without the involvement of developers, without writing a single line of code. That allows any end-business user to build and deploy their product. Of course, using no-code to develop a product needs a prior third-party integration – the solution must integrate with databases, web services, or APIs to connect data.
An end-user (e.g. project manager or marketing specialist) chooses an app's design through some GUI (Graphic User Interface) tools and drag-and-drop logic: visual components enable quick designing of a feature and software development on the fly. It is like entering the shop and choosing the color of your desired jacket. 
Smooth application design in no-code is possible thanks to a predefined UI (User Interface) layer.
Low-code offers similar possibilities in the area of development model as no-code, but still requires the work of developers with technical knowledge (a tailor who sews the jacket). The development model is more dependent on coding for managing an app's core architecture but is more flexible in UI options.
As you see, no-code allows for less functionality and customizability. Instead, they offer tools, which quickly organize information, rather than input unique code. No-code platforms offer no source code access or code modification capabilities.
Buying a jacket is easy, but if you look for a specific colour, it may be impossible to get the dream shade just like that.
Why choose no-code then?
Mobile banking app development: fast, simple and friendly
With FINANTEQ's no-code platform, Extentum, you will quickly (1-2 days) digitize your banking processes. First of all, Extentum is the answer to the problem of writing complicated code.
New functionalities are designed directly from the visual editor, which makes the process both intuitive and fast. There is also no need to implement new versions of the application.
Changes appear on the front end, which is the visible part of a web page or native applications.
Components created with the tool respond to the latest trends in User Experience (UX). The positive reception of the interface by the end-user is one of the aspects influencing the overall product evaluation. In the case of banking applications, intuitiveness and ease of use, e.g. redirection to external tools, determine the user's comfort.
The key benefits of low-code and no-code platforms for banks
In the area of the continuously changing digital channels environment, low-code and no-code platforms make the bank faster at introducing new features than its competitors.
The main profits are:
Significant time savings between business decisions and expansion of digital channels – even down to a few days.
Ability to implement new functionalities even in just a few hours.
Savings on the front-end development of up to 30% annually.
Possibility of creating customized offers, streamlining processes and application features.
Extentum can be easily integrated with any remote solutions and technologies in the bank. For an organization that wants to stay ahead of the competition and always be ready to respond to the customers' expectations this means nothing but benefits.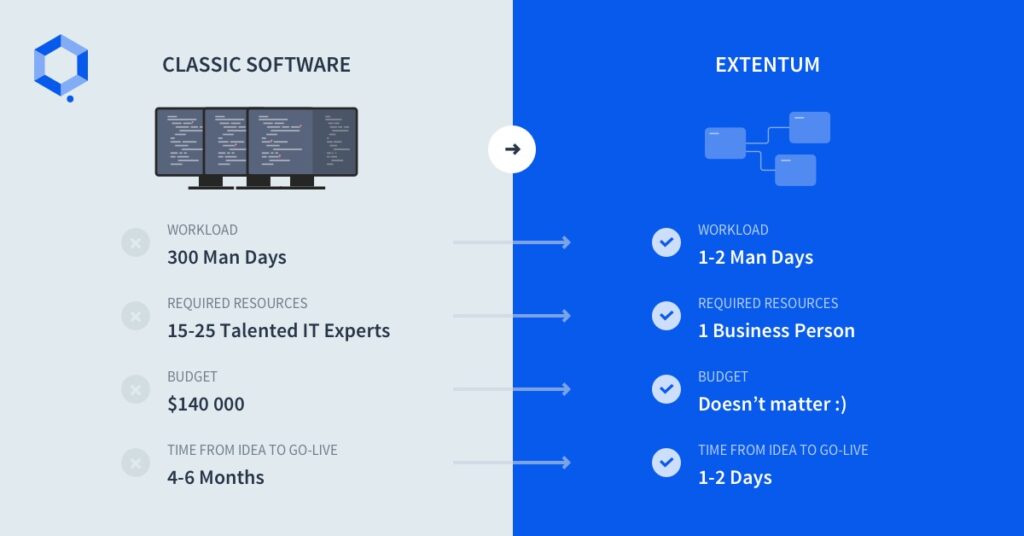 To sum it up: Think no-code!
Classic software development is a challenge for many companies. Shortage of developers, high costs and time-consuming to create a perfect solution – just to name some of the difficulties that can occur. In the existing business ecosystem, banking applications development started a few months earlier and may no longer be relevant today.
The time it takes to introduce new functionalities is especially important when it comes to mobile banking app development. Banks that are most responsive to current customers' needs will gain a significant competitive advantage. Fortunately, there is already an alternative to the time-consuming software development process. It is no-code application development.
If you have not seriously thought about no-code solutions until now, now is the last call.
How to implement new functionalities overnight?
If you want to see the no-code Extentum platform in action, make an appointment with our expert, who will show you how to turn your ideas into application functionalities with just a few clicks.
Certainly, the banks that are quickest to adopt low-code/ no-code technology will be one step ahead of the competition.
Follow our blog, where more articles on the Extentum will appear soon. 
Through the upcoming blog posts you will:
learn what exactly Extentum is;
read what opportunities it offers;
realize why every bank should consider using our platform;
get to know examples of Extentum applications that may inspire you to develop solutions needed in your bank.