It is the right time to create a smartwatch banking app!
The smartwatch market is growing. GlobeNewswire predicts that the worldwide wearable technology market size and share revenue will exceed USD 380.5 billion by 2028, with an expected CAGR of about 18.5% between 2022 and 2028.
Banks taking into account wearable market potential should consider optimizing their investments by reaching this forward-looking customer segment by delivering smartwatch-ready apps now.
When do bank users usually need access to a mobile banking app?
Bank customers often use smartphones and other technologies in everyday life for a few of the most common activities. Some of them do not necessarily require a phone to use them on devices. More and more often, in some way, they complement and sometimes even replace smartphones. These devices are smartwatches. But the question arises – in what situations will bank apps for watches work best? Let's take a look at some use cases below.
#1. Convenient contactless payments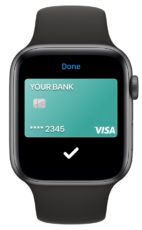 It's 05:45 in the morning. As usual, Mary is out walking her dog. While walking past the bakery, she remembers having nothing for breakfast! On her way out in a hurry, Mary forgot her wallet and phone. Luckily, she put on her favorite Apple Watch, on which she has her bank's app installed. With this, Mary can easily buy hot bread for breakfast and a treat for her pet. What a convenience!
#2. Simple cardless withdrawals

John went out running. He is a flesh and blood athlete. During his workout, he analyzes his heart rate and other parameters on his smartwatch. At one point in his training, John got a notification with the message from his wife: withdraw $50 from the ATM. We need cash for Lilly for school. It's good that the bank where John has an account offers a smartwatch app that allows him cardless cash withdrawals. John can do it quickly and conveniently using a wristband. How cool is that?
#3. Quick cards top-ups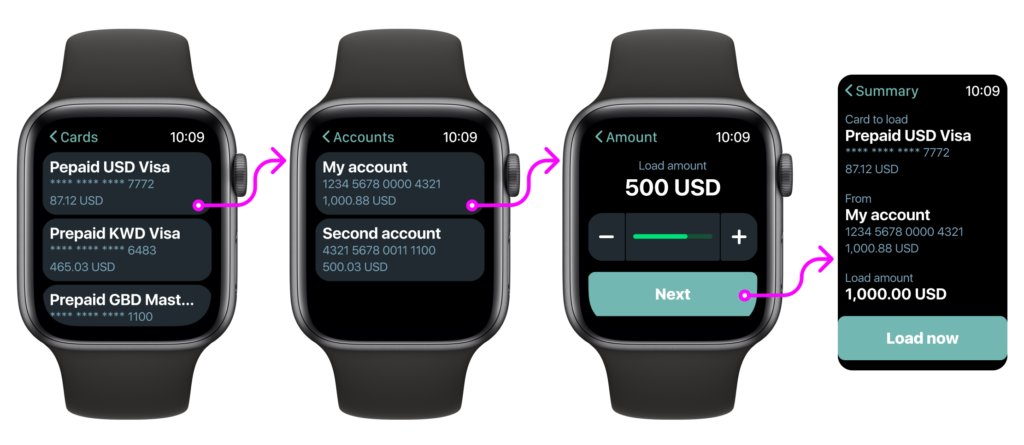 Lily goes out for a yoga class only with a smartwatch and water. On her way, she realizes she still needs to top up her son's card because he was supposed to go out to the cinema with his friends. With the built-in app, Lily doesn't have to come back home because she can easily take care of that with her watch. Eric's night out is saved!
#4. Easy credit card payment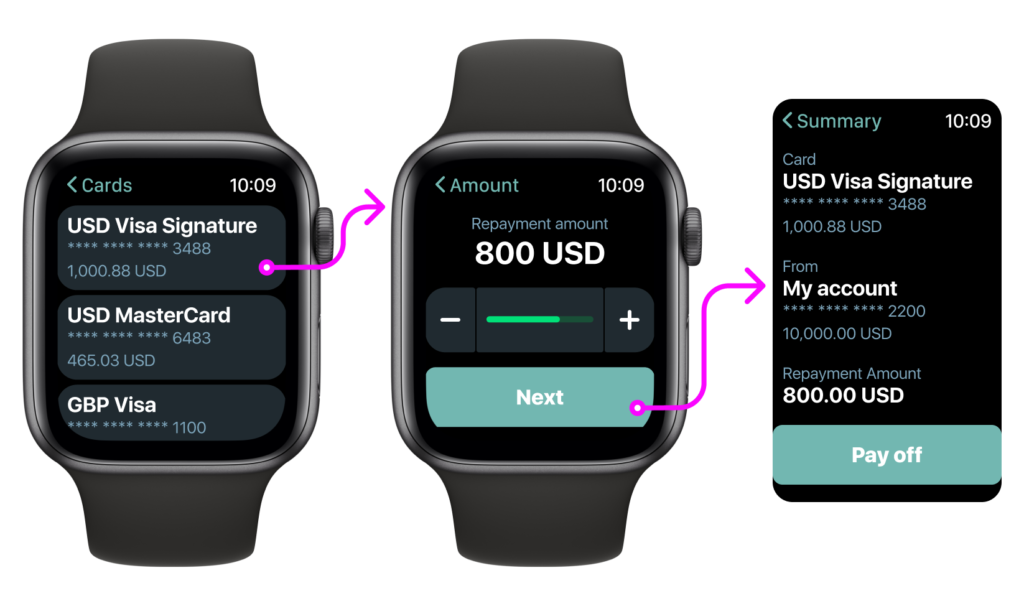 John receives a push notification that today is the deadline for paying off the credit card. He is out of town and has forgotten his phone. Luckily, he has a smartwatch with him. Thanks to the banking app implemented in the watch, he pays off the card easily and quickly. There is no risk of missing the deadline and incurring additional costs.
#5. Instant card blocking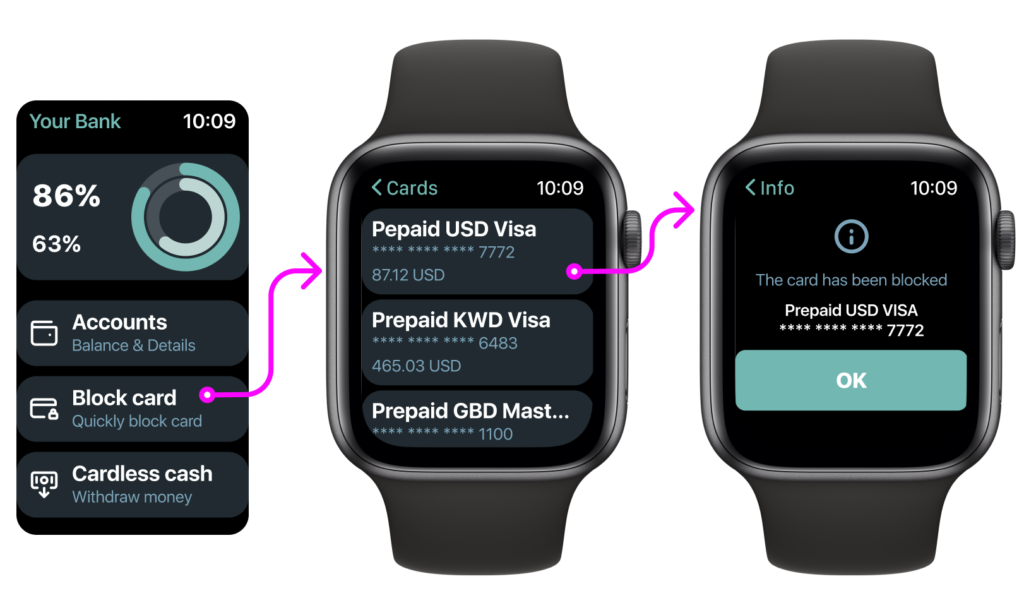 Harry has lost his wallet and phone. He has no way to contact his bank to block his debit card. However, as Harry is a gadget lover and always carries a smartwatch, he can instantly block the card using the installed banking app. The money in his account is safe.
#6. Comfortable repayments
John often borrows money from his brother. During a family meeting, Eric asked him to return the cash. To repay the debt quickly, John transferred the money using his smartwatch. He has his brother added as a defined recipient, so he doesn't even need to enter a pin to make the transfer. Clever.
How else can banks extend functionality in smartwatch banking apps?
At Finanteq, we know how important it is that bank customers can manage their finances on smartwatches without a direct connection with the mobile application. From a technical point of view, the watch app works independently of the mobile app, thanks to the built-in cellular and LTE technology. Modern smartwatches allow users to install an electronic sim card (eSIM) to be online permanently.
*Depending on the feature's availability from the user's GSM operator.
Below, we present some examples of functionalities that may be available in smartwatches:
cardless withdrawals,
balances,
account history,
notifications,
card blocking,
card details,
card top-ups,
another authorization factor,
"show PIN" option,
money transfers,
bank deposits,
loyalty offers,
And more.
How is it possible? At Finanteq, we develop a standalone watch app similar to mobile apps. In the next paragraph, I will describe precisely how we do it.
What solution does Finanteq offer for your smartwatch banking app?
At Finanteq, we specialize in developing banking applications. We have the know-how to create user-friendly and high-quality software.
When it comes to smartwatch app development, we pay a lot of attention to the specific UI/UX of wearables. Same to smartwatch app development, wearables require a unique approach to functionality and design, as the watch face has limitations. Watch functions, to be useful, must be designed so that it is easy to perform operations on them. They must be easy-click and convenient.
Thanks to many years of experience in developing banking applications, our in-house UX Design Team designed all elements that will meet the expectations of users, taking into account the best practices of user interface development.
In short, we create an interface for our clients that consists of the following elements:
watch application,
watch faces,
watch face complications,
tiles.
We can tailor the solution to the bank's customers' requirements. By responding to customer's needs, the bank certainly will advantage.
Benefits of introducing smartwatch applications
What are the advantages for banks of having a watch banking app in their offerings? We can distinguish five main edges:
Loyalty – banks that propose innovative, cutting-edge, and desirable solutions are more likely to gain a base of loyal and recommending customers.
Competitive advantage – watch apps are still not available in most banks. Organizations that introduce this solution now will be ahead of their competition. As an added benefit, providing unique technologies influences the image of a modern organization.
Marketing – banks will be able to include watches in their advertising campaigns, creating a wow effect on consumers.
Security – watches can be an additional component of two-factor authentication. Using extra security factors decreases potential user complaints caused by unauthorized transactions, thus helping reduce the bank's costs and the risk of reputational damage.
Customer segmentation – another benefit for banks is to expand their product range for new customers' segments (for example, people who play the stock market). This results in increased profits from the sale of banking products and services.
Yet, from the customers' perspective, the main benefits are:
Convenience – as the use cases presented in the article show, convenience is undoubtedly the most significant advantage of watch apps. Smartwatches are handy devices for many everyday situations.
Availability – access to apps previously only available on phones gives users much freedom. With smartwatches, users won't always have to take their mobile when going out.
Safety – is as high as it is for mobile applications. Also, the watch can be used as an additional authentication factor.
Prestige – some people buy products for the prestige of owning them. Early adopters and gadget lovers belong to this group.

Summing up all the advantages, creating a watch app is an excellent way to fill a market niche, reach new customers, and expand the product range for current ones.
The time for developing a smartwatch-ready app is now
There are many situations when a banking app for watches proves invaluable. Taking into account market trends, more and more people are using smartwatches. Banks that introduce wearable apps at the right time will gain a significant advantage over their competitors.
When looking for specialist to create a smartwatch app, we are the right people for the job.
With our expertise, we are developing a smartwatch application with functionalities that meet the needs of the bank's customers.
The visual layer of the application will be stunning because we own an in-house specialized UX/UI design team.
The product we create will be safe because we assure application security in any aspect.
The solution will be reliable and quickly brought to market thanks to the Finanteq framework, the well-tested core of our applications and thanks to full code coverage with tests. 
Contact us, and we will advise you on the best solutions to develop a convenient, fast, and functional smartwatch application!