Modern online banking users expect more and more improvements. They also look forward to receiving excellent service. What is more, the number of customers that handle their financial tasks fully remotely is increasing.
According to the statistics below, as many as 1,903.2 million people used online banking in 2020. By 2024, there are expected to be more than 2,551.8 million active users.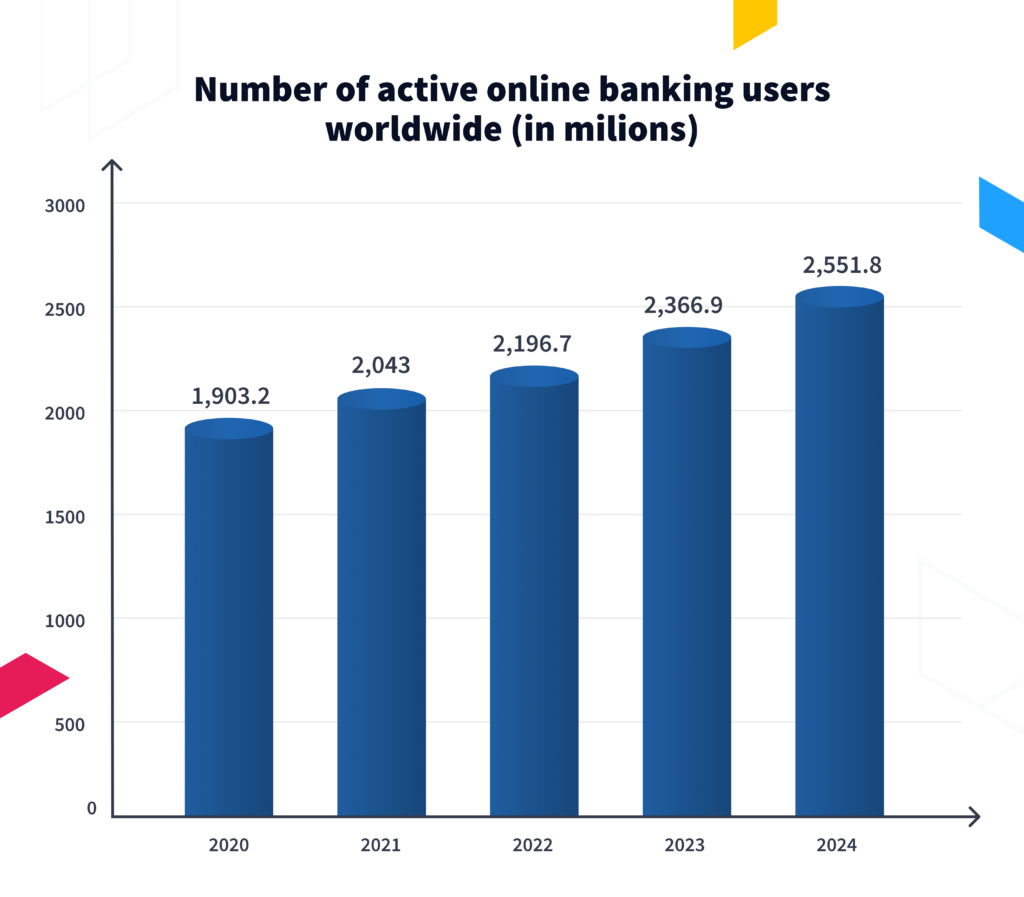 Source: Statista
Financial institutions strive to ensure the highest quality of remote communication. To do so, banks create specialized, dedicated divisions or restructure the current ones. Banks need to be available 24/h, so… they extend helpline hours and launch additional contact options, e.g. chats, video chats.
This new reality comes with new challenges. What are they? Above all, banks have to:
Provide the highest possible standards of customer service.
Avoid technical problems typical of mobile/video conference tools.
Prepare advisors to improve the customer experience and up-sell banking products.
Choose the right solution to present visual materials and send documents securely during video conference calls.
The following article will show ready answers and explain why a dedicated platform for banks works better than typical video conferencing software.
What is the essence of great video conferences and online meetings?
Today, virtual meetings have to offer experience similar to that in brick-and-mortar branches. To achieve top-notch service, two essential conditions have to be met:
Excellent preparation of the person conducting the meeting and utmost care of the professional environment.
Selection of an online conferencing platform with all necessary tools and functionalities to run the meeting comfortably and effectively, both for users and advisors.
Check out tips for achieving the best customer service and sales results during a video conference call.
What should a professional online meeting with a customer look like – our tips
#1 Take care of the preparation and make sure you stick to the meeting agenda
Each bank should develop customer service standards applicable to all employees. With a contact channel such as video chat, banks should also establish processes and policies based on the specifics of this particular way of serving customers. As in-branch service is different from remote one, new or updated standards must include channel-specific procedures for below areas:
Communication standards with the customer at various stages of the conversation and in different situations, including culture and techniques for presenting the bank's products and services.
Complaints and services or product issues procedures to address all customer concerns.
Each advisor should receive training in the above fields. Whereas from the client's point of view, the most important thing is that the advisor:
Reliably present all information. The primary, essential thing that people expect from bank employees is the ability to inspire trust. The customer must feel safe and comfortable when contacting a financial institution. To build the sense of trust, the advisor must have a visual tools that helps to achieve this, for example by showing key information during the video call, such as interest rates and commissions. In that case, the customer is confident that he is getting certain information and that they are not being misled.
Have extensive knowledge of the offered products. The bank advisor is not just a salesman. They are a person who should know well the specifics of banking and the services and products. This is necessary to solve even the most difficult problems and answer all complicated questions of customers. The proper knowledge also translates into a shorter time to resolve individual cases.
Is patient and courteous. Often, customers will be upset and stressed because they come with a severe problem. The bank's advisor must be able to patiently listen to the customer and present them with further steps to solve the issue.
Audio and video conferences should always be conducted in a certain pattern. That is why banks prepare meeting standards that help advisors conduct the conversation orderly. As a result, the advisor usually sticks to the agenda, which translates into call efficiency and optimal call duration.
#2 Point out to advisors to be always visible and audible during the video conference
The call quality significantly impacts the overall perception of the online conversation. Banking customers expect calls of the highest quality. That's why it's worth passing on to employees the below checklist:
Verify the settings — it's always good to double-check if everything is set correctly — both audio and visual configuration.
Mute and unmute the microphone — it is good practice to mute the microphone when the customer is speaking. Background noises can be distracting and unprofessional.
Ensure a high-quality network — a poor Internet connection can significantly reduce the comfort of the conversation during video conferences, especially when presenting documents.
These three easy steps help to avoid technical problems and improve the quality of the call.
#3 Choose the right platform for video conferencing.
Banks' customer video calling platforms must be tailored to the industry's specifics and the banking customer's requirements. Solutions like Zoom, Skype or Microsoft Teams will not work for banking institutions. First, these tools are not dedicated to banks and therefore do not meet security standards. In addition, these external tools would adversely affect the bank's image because are not adjusted to the banking industry. In addition, the functionalities of such platforms can be limited.
When choosing a solution for bank customer service, a dedicated platform that can be implemented in the application and on the website will work best. Applications embedded in existing online banking are much more secure than external systems. An additional advantage of such solutions is the possibility of branding.
Moreover, these platforms should allow for secure document transfer, screen sharing, and drawing boards to thoroughly familiarize the customer with the topics discussed/proposed service. And last but not least, they should be an integral part of remote banking channels.
When choosing software to be implemented for banking customer service, it is worth noting whether the company that offers it specializes only in solutions for the banking industry.
Ensure professional communication during virtual meetings with customers – Pocket Branch solution
All the above-mentioned technical features are included in Pocket Branch, our dedicated tool created for banking customer service.
More than just a chat
The Pocket Branch is no ordinary chat – the solution is 100% tailored for banking customer service. The functionalities it offers are:
Asynchronous communication – does not require the active participation of both parties at the same time.
Multi chat – allowing the advisor to talk to multiple customers simultaneously in chat-only mode.
The option to assign the advisor to a "single case handling" moment.
Supervisor switching the conversation from one advisor to another.
Complete conversation history with a given customer.
Ability to integrate with an external chatbot to pre-service customers.
Chat available in Pocket Branch is created to meet customers' and advisors' needs.
Verified outgoing calls
Nobody likes to get calls from unknown numbers. This is how call centres work, including banking ones. The Pocket Branch enables the advisor to initiate audio/video calls in the application. A bank customer seeing a call coming through from the app is assured that it is a bank employee and not someone who may be impersonating them calling. This translates into a sense of security as well as user experience.
Ready-to-go answers
Recurring question threads were a great excuse to introduce another improvement to our platform – Quick Responses. They were created to streamline the consultant's work and improve the CX of customers.
With the redefined prompts, customers can easily choose the topic of conversation with the consultant. In turn, the consultant has a range of ready-made answers to the most frequently asked questions. It is worth mentioning that the quick answers are 100% editable so that they can be easily tailored to the needs of any organization.
Instant secure access to documents
An indispensable part of visiting bank branches is getting acquainted with documents. Our virtual branch lets advisors quickly and securely upload documents to the mobile channel.
Interestingly, sending files does not affect the connection in any way – it can be continued. The customer can review the documents already during or after the call.
This is especially important during sales. It allows the process to be closed during the conversation with the advisor if the customer wishes.
VIP customer service
If the bank offers VIP customer service, Pocket Branch allows for a personalized approach to each customer. Key features include serving VIP clients out of turn and assigning a dedicated advisor. Everything to make sure that crucial clients are satisfied. The mentioned functionalities are dedicated to key and corporate customers.
Insightful visuals
During a conversation with a customer, a consultant can use a virtual board on which they can:
Use the drawing tool and present information visually.
Use the board to present the shared documents. With it, they can highlight selected text passages by underlining, highlighting, or drawing.
Everything is done in real-time – the client sees everything on the screen of his device immediately.
With our Virtual Branch, banks improve customer service and increase sales. To discover the full potential of our tool request a demo.
To sum up
For many banks, the mobile channel is becoming the leading way to communicate with their customers. Therefore, the organization should be properly prepared for remote customer service.
First, banks should separate from its structure a department for remote customer service. Next, find and implement the best video conferencing solution. And finally, ensure the training of advisors and their continuous development.
Many organizations need help choosing the best virtual meeting platform. Contact us if your organization currently faces this challenge to discuss Pocket Branch possibilities.