Click here for the Polish version.

E-ID has become a permanent fixture in many areas of our lives, and the possibilities for its use continue to expand.
By having a so-called electronic layer, the e-card opens up new opportunities for both the citizen and the business.
What is an e-ID?
In Poland, e-IDs have been issued since 2019 and are becoming increasingly popular. More than 7.5 million e-cards have been issued so far, and in the age of digitalization the number of holders will increase.
An e-ID is nothing else than an ID card with an electronic layer, i.e. an embedded chip invisible from the outside which stores the holder's data. Thanks to the microprocessor it is possible, among other things, to conveniently confirm identity and nationality or electronically sign documents. The e-ID can be used to communicate with both public administration and commercial companies. The use of advanced security measures makes all data contained in the e-ID safe.
First of all, to use the e-ID, you must always provide the access number (CAN). This number is located on the front of the document (6 digits) and is embedded in the bar code on the reverse side of the e-certificate. CAN also protects the document from reading the data recorded in the electronic layer by unauthorized persons.
Additionally, it is required to enter PIN1 or PIN2, which are assigned by the ID cardholder.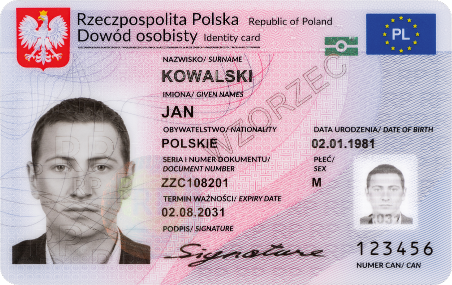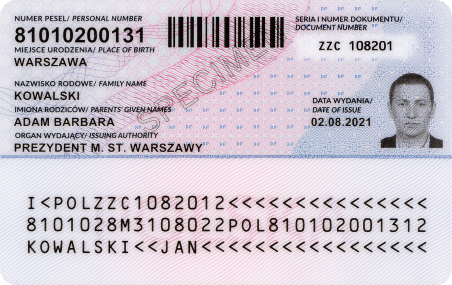 The e-ID works contactless, but to use the electronic functions of the document, a device reading the data stored on the electronic layer is required.
This may be an e-ID reader device with the necessary software for operation or a smartphone with an NFC module and eDO App installed.
What is eDO App for?
Mobile applications are something we cannot imagine life without.
The free eDO App is a product of Polish Security Printing Works (PL: PWPW) that simply and conveniently enables the use of e-ID without the use of a reader device.
It is always at hand (because it is on your phone), friendly, and saves your time and money.
Thanks to eDO App you can:
contact without leaving home with all public administration offices (from any place in the world, 24 hours a day),
remotely confirm your identity,
put your signature – just like a traditional one – on the Internet,
verify the originality of the e-certificate
conveniently sign any electronic document.
The use of eDO App is secure. The data read by the application from the electronic layer of the e-ID are transmitted via an encrypted connection.
The security features used in the app protect customer data from unauthorized copying and further use.
The growing popularity of the app is evidenced by the fact that in January 2022 alone, as many as 204,000 e-ID uses were recorded via eDO App. It means that statistically, approximately every 13 seconds, someone handled their affairs via eDO App in Poland.
A revolutionary method of customer identification
The increasing process of digitalization and pandemic, as well as changing customer expectations, has resulted in more and more companies offering remote access to their products and services and enabling remote contracting.
The methods for verifying and confirming the identity of customers are, of course, different. The use of eDO App for this purpose is undoubtedly a revolution in this area.
With the launch of eDO App, Poland has joined the countries with the most modern identification methods. What is more, the application works not only with e-IDs but also with Polish residence cards and passports from more than 80 countries.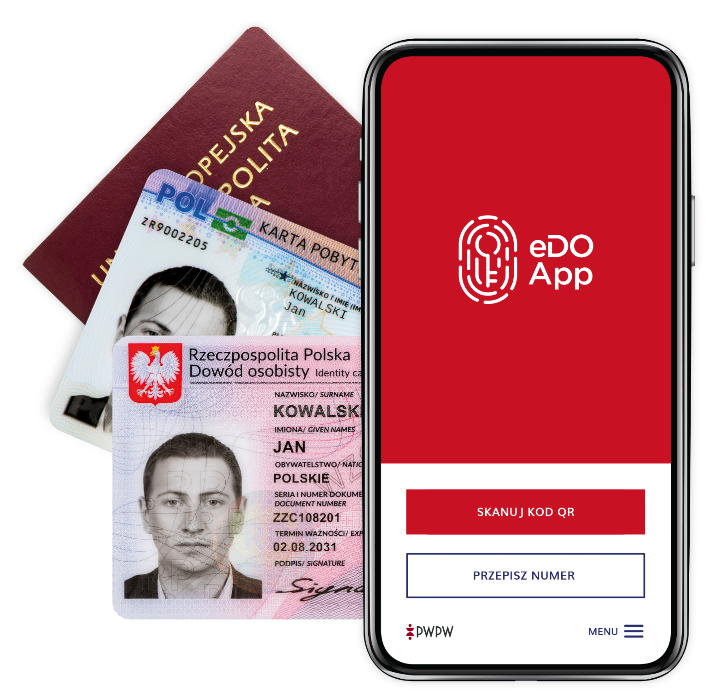 Identity verification is one of the key features of eDO App, and the possibilities for its use in business are essentially endless. It is not surprising that more and more companies trust this solution and are willing to make it available to their customers.
Currently, with eDO App you can use the services of more than 500 portals.
By verifying oneself via the application a client can, among others, purchase investment funds in investment funds companies, sign a gas supply contract, purchase treasury bonds, confirm identity, and provide an electronic signature via the Microsoft Teams platform, or finally – open a bank account completely remotely.
eDO App in business
So if you: are in the process of digitizing your processes, want to innovate, are thinking about offering your customers capabilities that your competitors don't yet have, or are simply concerned about the security of your customers, you can't disregard a solution like integration with eDO App.
eDO App offers a wide range of possibilities for different types of business, and the technology can be implemented directly into applications.
In financial services, once integrated, eDO App functionalities can be used in many processes such as:
KYC processes,
remote contract conclusion,
identity verification in a banking application or contact center.
And what benefits can integration with eDO App bring to your company? Unquestionably these are:
identity security,
mitigation of fraud risk,
cost reduction,
time savings.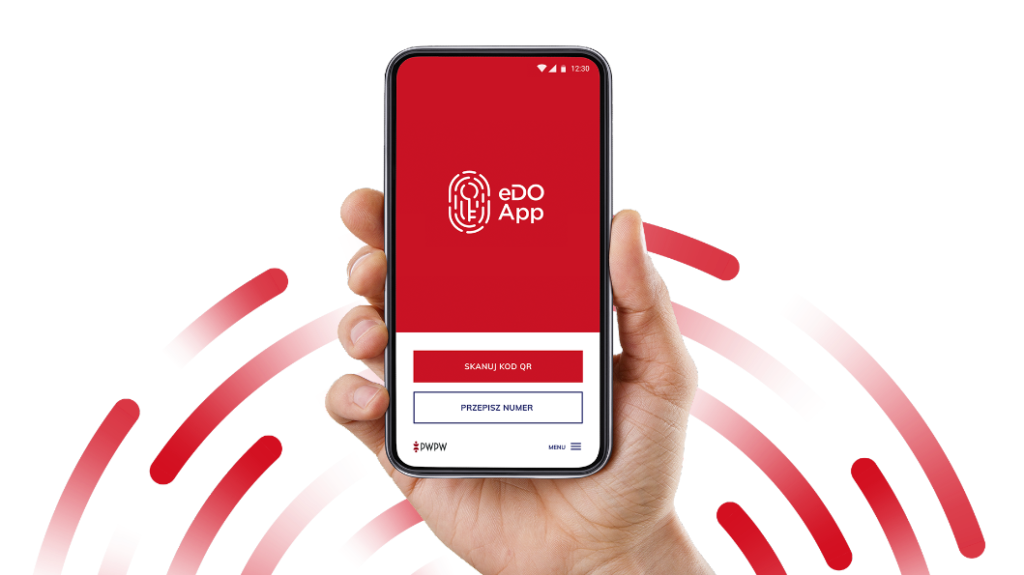 How to implement eDO App in your bank
At FINANTEQ we provide solutions for mobile banking. As PWPW's technology partner for eDO App services, we can offer our customers a range of modern, convenient, and secure possibilities provided by the electronic layers of an e-ID, Polish residence card, and passports. The option of integrating mobile banking systems with eDO App is another point on our map of state-of-the-art digital solutions.
Thanks to us, you can use the possibilities offered by eDO App in your bank's processes, thus ensuring customer security and improving their experience.
The implementation of eDO App component in mobile banking enables you to provide bank customers with services in the field of:
verification of the authenticity and validity of identity documents,
confirmation of identity, supplementing data from identity documents,
affixing electronic signatures.
Services can be provided via:
eDO App mobile application for customers on Android and IOS operating systems;
eDO APP server with API;
a mobile library – in that case the component requires integration with the bank's mobile application, which will be handled by FINANTEQ.
In practice, this means that in the bank's mobile application the customer will be able (after integration) to perform instructions related to identification and authorization, such as:
securely logging into the application,
unblocking access to the mobile application,
opening an account,
signing contracts,
authorizing transactions,
opening a business,
updating data,
performing periodic verification.
Implementation can be carried out in a short time. The entire integration process is tailored to individual customer requirements.
Now it's your turn!
Every banking business is based on verifying the identity of customers and concluding agreements (including distance agreements), and security in banking is a key issue.
Tangible benefits and the growing popularity of eDO App are the main factors why every bank should already consider adding integration with eDO App to its roadmap for the coming period.
In my next article, I will outline the specific functionalities that can be offered to your customers in mobile banking thanks to the integration with eDO App.
If you already have questions or would like to discuss possible solutions, feel free to contact us.