Many years of work in the fintech and banking industry gave us a brief picture of it. When banking today, customers expect more than just access to products or banking services.
They also expect value. On-demand. Now.
Companies should focus on long-term innovations that deliver real value to clients.
But what exactly is the value? And how to provide it?
Let's check! 
Personalization is a key (also to grow your revenues)
Nowadays, people want to get personalized offers that match their current needs.
A well-tailored offer will always be received better than a generic one. In a way, it improves customer satisfaction and tightens the relationship between the bank and the customer. 
What is more, companies should recognize the needs of their customers even before they came up in their minds. A company that is customer-centric and wants to stay one step ahead of the competition cannot ignore this.
For organizations, personalization brings tangible benefits. According to the McKinsey Report, it can increase your revenue up to 15% (probably nowadays much more).
We can see a mutual benefit – the bank's customers get a personalized offer (they do appreciate it), the bank increases sales.
To recognize and meet its infinite needs, the banking industry still needs enormous resources.
The main challenges in fast implementing new functionalities are the shortage of developers and lack of funds.
At FINANTEQ we developed a solution that addresses those challenges and would allow instant implementation of new features.
We created EXTENTUM, a data-driven no-code platform allowing:
rapidly extending functionalities of any existing digital banking on the fly,
provided not only personalized content but also personalized processes,
without developers' engagement, within hours.
Maybe you wonder, who if not developers?
The bank's employees such as a business person, product owner, marketing specialist, analyst, data scientist, and so on.
Speaking about personalization (or even nano-personalization). Thanks to the possibility of precise targeting with EXTENTUM, you can reach out only to customers who meet predefined criteria.
For example – you can offer a Christmas loan to the customers who transferred funds to the account of the travel agent and then implement this new functionality in a few hours.
Also in the fintech/banking industry time to market plays a key role to be more competitive.
Reach out to us for more info, anytime.
Staying connected (with your virtual branch)
All of us pay a lot of attention to customer service. We don't want to talk to the chatbots. More than ever, now we need human interactions (even virtual).
This is the added value that banks have to ensure – especially now, in the time of fast digitalization and crisis. The bank which cares and understands is the bank the customers expect.
The fact is, that both pandemics and the decreasing number of branches made us use more digital channels than ever before.
To ease this, it is crucial to ensure non-problematic people-oriented digital forms of contact to support the banks' customers.
Again, at FINANTEQ we have an ace up one's sleeve – POCKET BRANCH, our digital branch, which solves almost everything.
With audio, chat, and video you can ensure an above-average level of customer service.
Hence, bank sustains relationships in an era of "stay at home" (video chat) and minimalize costs (i.e. savings on contact centers).
And, implementation is super easy. Check us!
Effortless experience (matters more than ever)
Everyone puts a strong emphasis on Customer Experience. And that's great!
However, there is one more aspect of the Customer Journey worth focusing on. It's Customer Effort.
Customer Effort Score (CES) is a metric that shows how much effort a customer puts in to solve a problem, buy a product or service, or get an answer to their question.
Minimizing customer effort is especially important when banking.
Imagine the scenario. Your client is considering taking a loan.
When will they be more likely to take up the offer?
When can they do it from a mobile app in a few clicks?
Or when do they have to go to the branch in person?
The answer seems obvious.
Another case can be account opening. Check our article on Account Opening at Revolut and find out that Customer Effort matters.
The following Gartner's infographic outlines the essence of minimizing Customer Effort from a business perspective.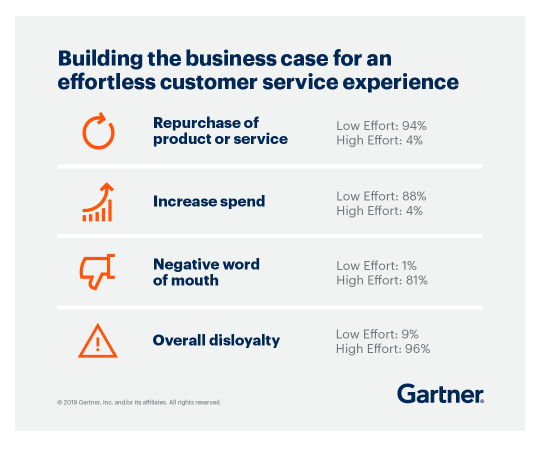 Source: Gartner
At FINANTEQ, we create all our solutions in the spirit of Minimal Customer Effort.
It is worth noting that in the case of our products, the end customer is both bank's clients and employees.
We care for their comfort equally. And its results in great Customer and Employee Experience, which leads to success for the entire organization.
All in one app (who wants to switch anymore?)
Omnichannel is the right direction for your bank.
In today's World, time and data are the real value. We spend hours using our mobiles. We have a lot of apps with which we share our sensitive data.
So why not recreate the mobile banking app into a powerful engine which answers all needs of your customers? In our opinion, a trend of adopting the omnichannel strategy to gain more mobile engagement is on the rise now.
Developers have created tens of thousands of apps, but for sure just a few of them will be used regularly. But the banks' app definitely will.
Again, we some time ago initiate this direction with our m-commerce solution.
SUPERWALLET, a the M-commerce Value Added Services platform as it is referred to, when implemented into your banking app, allows your customers to simply plan a trip, do shopping, and more.
They can safely pay for everything straight from their bank account, without logging in anywhere else.
It saves time and minimizes the risk of data loss.
It adds value to their experience.
Also, check out the latest FINANTEQ blog post about Revolut turning into a kind of super wallet, in which you learn about the benefits of the superwallets' idea.
Simplification > UX
On the one hand, we want to have a powerful app with a number of functionalities, on the other we want it simple and intuitive, right?
Great User Experience is the value, which benefits – all of your customers will appreciate.
Now, with FINANTEQ's UX solution, you can outsource your mobile app audit. Being an independent company, let us objectively analyze your application and propose the best solutions.
Check our team works on Behance
To wrap up: Mobile-first era (on the rise)
The use of mobile devices has increased in recent months. The digitization process, planned for several years ahead, took place in a few months.
Only companies that use this time effectively will grow their revenues and strengthen their position.
The largest players will remain on the market, absorbing smaller entities.
So, how to keep up with demanding customers and maintain a strong position in the market?
Provide them with value, and simply become top of the mind awareness organization:
Always strive to ensure top-notch customer service and take care of customer experience.
Minimalize your customers effort while banking.
Stay connected with your clients.
Listen and get to know them.
Meet and exceed their expectations.
Personalize offers.
Introduce useful, intuitive solutions.
Ensure that the app meets as many consumer needs as possible.
Research the market and start acting today.