We prepared a new application design for the bank from scratch, adding many new, previously unavailable functionalities. The project is adjusted to the needs of four client segments in eight different countries.
Problem
Arab Bank entered into cooperation with FINANTEQ in 2016 in order to replace the previous system with a more flexible and modern mobile banking solution.
"Driven by customers' evolving needs and behavior patterns, the banking sector is focusing more than ever on adopting digital solutions as a core strategy" – says Naim AlHussaini – Executive Vice President – Head of Consumer Banking at Arab Bank. He adds:  – "Hence, we diligently worked to upgrade Arabi Mobile App with a host of added features in order to encourage our customers to use our digital banking channels for their day-to-day banking transactions and enjoy the added convenience and security which come with it."
Solution
The new "Arabi Mobile" application by FINANTEQ was launched in July 2018. The app is already available in Jordan and is going to be rolled out for Egypt, Palestine, UAE, Qatar, Bahrain, Yemen and Lebanon.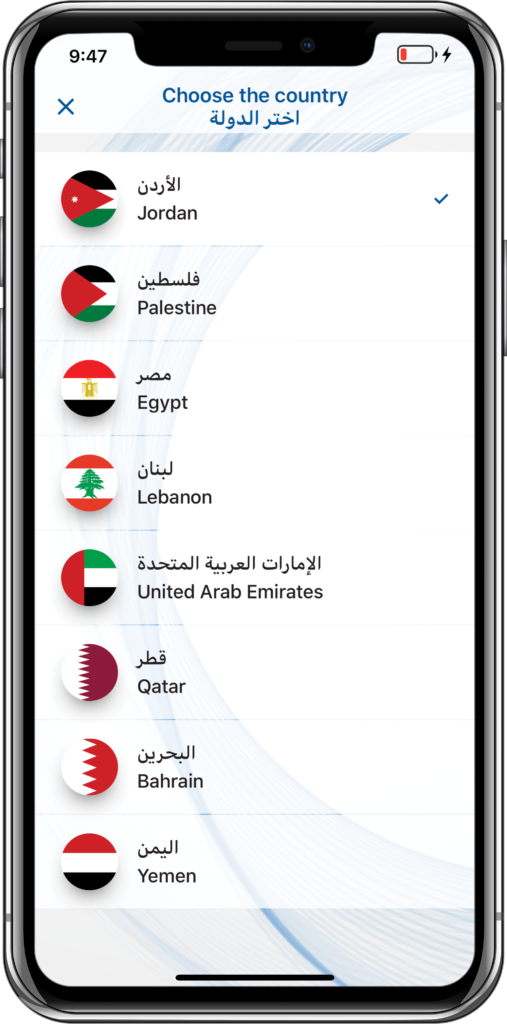 The new app works in 4 different color motives addressing various target groups (customer segments):
Main – standard blue application design,
Shabab – red application design for young customers,
Premium – navy blue version of the application for a unique segment of Bank's customers,
Elite – gold design for the most valued customers.
UX and functionality
Arabi Mobile is a combination of modern design and advanced functionality. The dashboard presents all the information that the clients look for the most often such as the balance of particular user accounts, loans, cards and opened deposits. You can manage each of these elements by means of options available on the screen.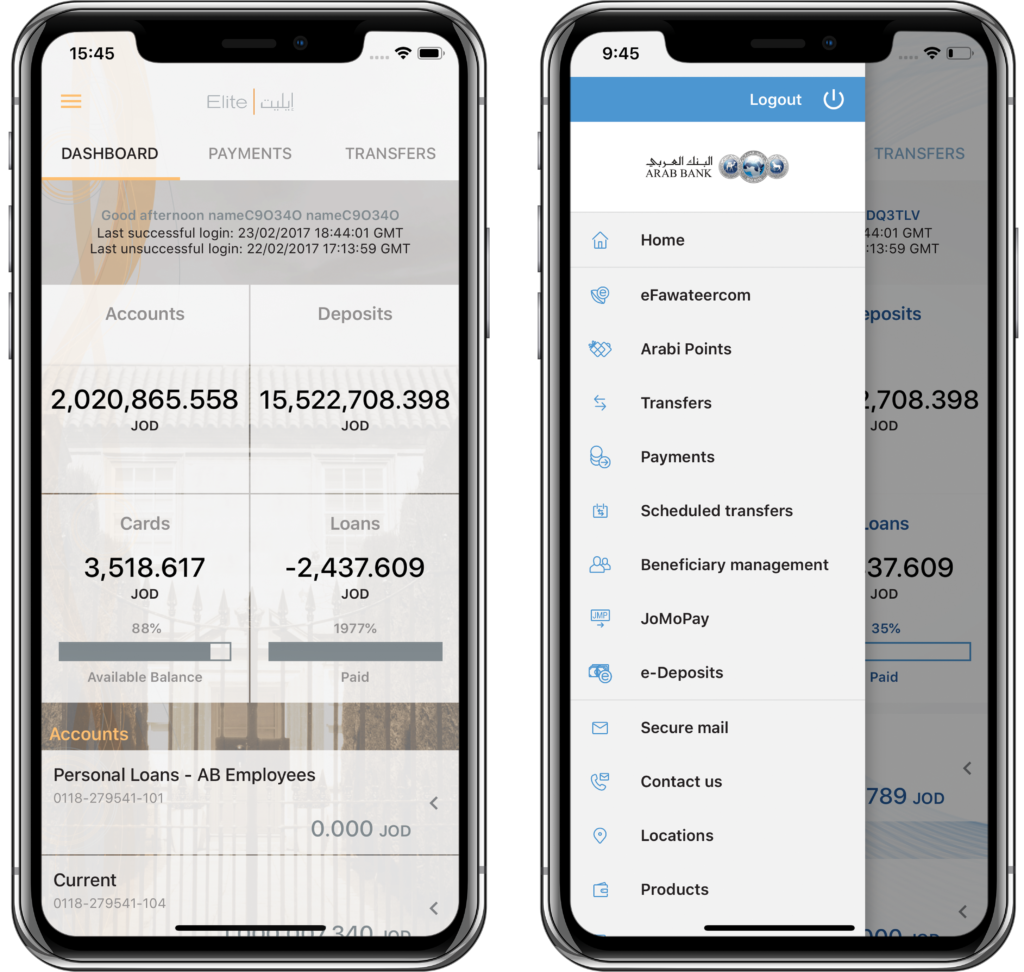 We have also increased the level of usability in the application by extending the login methods. It is now possible to log in with a pattern, fingerprint or face ID. The use of technologies available in smartphones (such as fingerprint readers) facilitates faster and easier access to the mobile application. The method of logging in depends on the country where you have an account – it is compliant with the legal requirements of that country.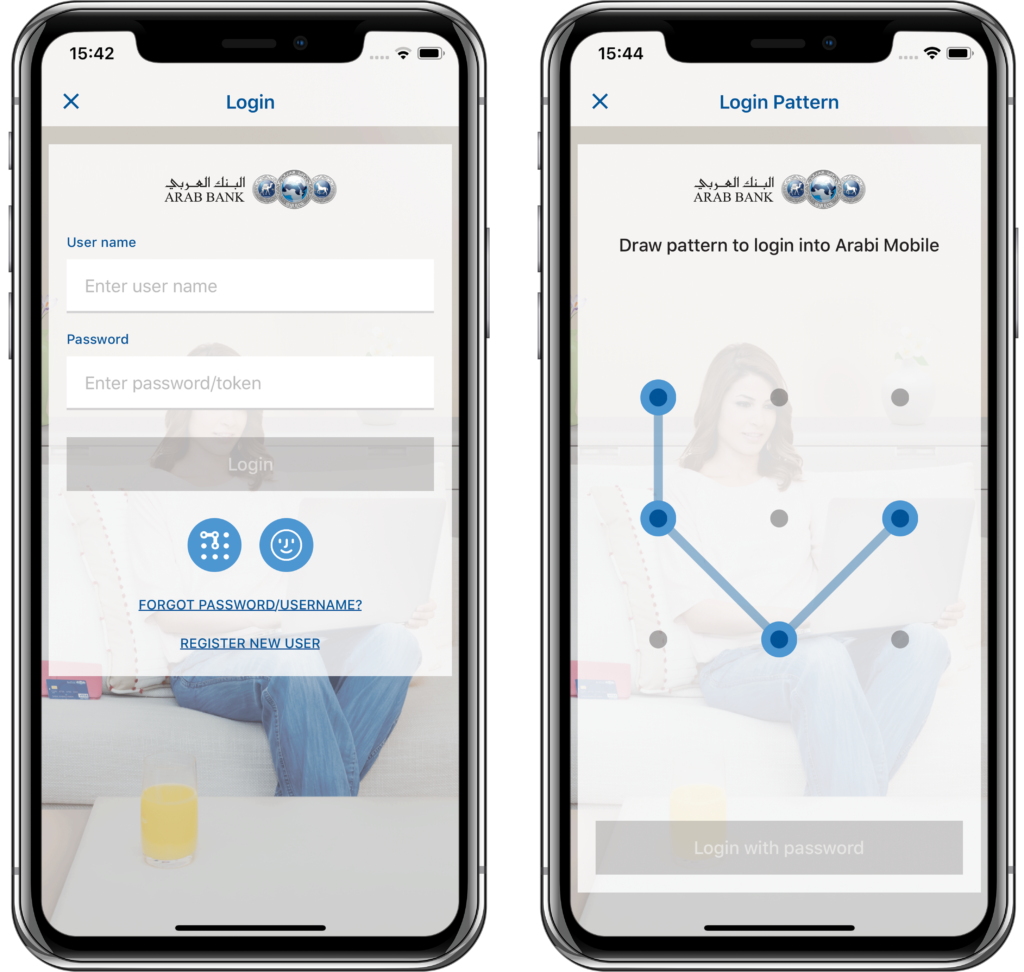 With the new Arab Bank application, mobile payments advance to a higher level. We have extended payments to include support for the Jordan Mobile Payment service, "JoMoPay". This solution allows for immediate transfer of money to friends without knowing their account number. The transfer can be made to an alias or phone number. With the new application, it is also possible to pay bills via the integrated eFAWATEERcom system. Implementation of the platform within the application allows for an easy and quick start with the system.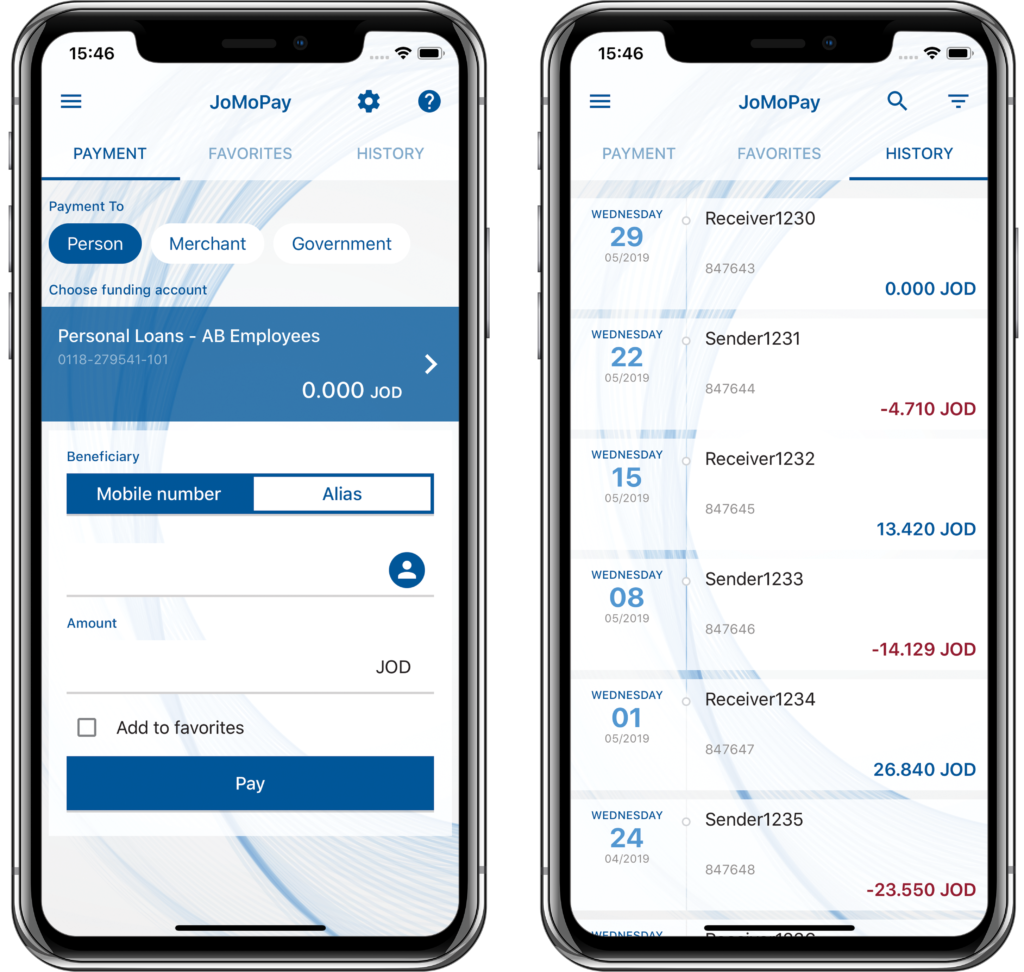 Also, the management and planning of future transfers is extremely simple and intuitive. Using the transfer form, you can set future orders, define their frequency (single or repetitive), and modify data such as the amount or date of transfer.
For active customers of the Arab Bank there is also a loyalty system, where users collect Arabi Points via the mobile application or online payments. The accumulated points can be exchanged directly in the banking application for vouchers to shops of an affiliated network or for a cash withdrawal.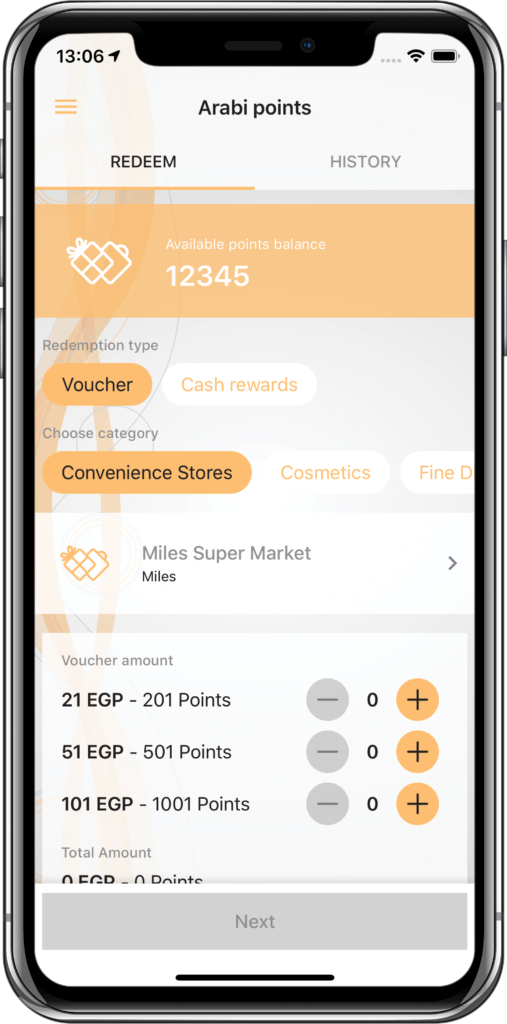 Stages of implementation
From the moment of Launch, Arab Bank customers in Jordan were able to use following features:
Instant registration,
Personalized app design based on the customer's account type (Premium, Shabab, and Elite),
Very easy navigation options across the app and its menu with different display options,
View balances and details of your accounts/cards,
View balances and details of your Credit Cards,
Transfer funds between your accounts,
Transfer funds within Arab Bank accounts,
Transfer funds to local and international banks,
Beneficiary management (add, edit, delete, add beneficiary as trusted) for easier and quicker money transfers,
Scheduled transfer management,
Pay your Credit Card dues and pay to other Arab Bank Credit Cards,
Bills payment through efawateercom,
Jomopay Service (solution allows for immediate transfer of money to friends without knowing their account number).
Applying for a Credit Card, Account,
Locate the nearest Arab Bank Branches and ATMs.
 Q3/2018
Loyalty Points redemption at various merchants.
Q4/2018
Applying for Deposit or a Loan (Personal, Auto or Housing loans),
Deposits and Loans calculators.
Q1/2019
Login with fingerprint or face ID or pattern.
Many other features are planned to be released in the future.
It is worth mentioning that Arabi Mobile App was also recognized as the Best Mobile Banking App (for smartphones and tablets) in Jordan for 2018, 2019, 2020 by Global Finance, a New York-based international publication, which also awarded Arab Bank the Best Consumer Digital Bank in Jordan for 2018, 2019, 2020, in Egypt for 2019 and in Palestine for 2020. Moreover, the application has high ratings on App Store and Google Play Store (last updated on: August 19, 2019).

Demo is worth more than 1000 words!
Contact us and try FINANTEQ's Mobile Banking