How can screen sharing help in replacing a physical branch with a digital one?
Back in December 2019, just under one in five consumers was using internet or mobile video calls to contact their bank. The closure of bank branches due to Covid-19 has radically changed this situation.
In remote customer service, the screen sharing option will be of invaluable help to the bank. It is more than just sharing a screen. First of all, it is an opportunity to easily demonstrate products and services. It also means better cooperation and visual support. And finally, it is safer for the consultant and the customer, in line with the motto #stayathome.
Use case 1: Signing a recurring credit agreement
During the COVID-19 pandemic, financial security has taken on a new meaning. Recurring credit services may become much more attractive for the customer than before. They will help to secure customers and their families in the event of a sudden job loss or business failure.
Many banks offer web-based application. Contracts can also be signed online. However, what if the customer is interested in the service, but the contract raises their doubts? Or the customer simply does not understand it?
In such case, a video call and the screen sharing feature will be of help. Using the bank`s application, the customer contacts the advisor, who starts sharing the contents of their device's screen. Together they analyse the agreement, reading it point by point or examining specific paragraphs. If needed, the advisor can mark particular fragments of the text on their screen, the customer can see everything on their device.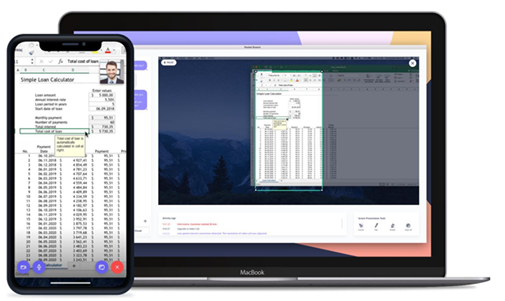 Lear more about Screen Sharing!
To present you with a full scope of Screen Sharing functionalities, we prepared a free ebook. We will show 5 examples where the screen sharing option will prove to be an excellent support in communicating with bank's customers and selling.